Send Inquiry
AC Inverter Motor Drive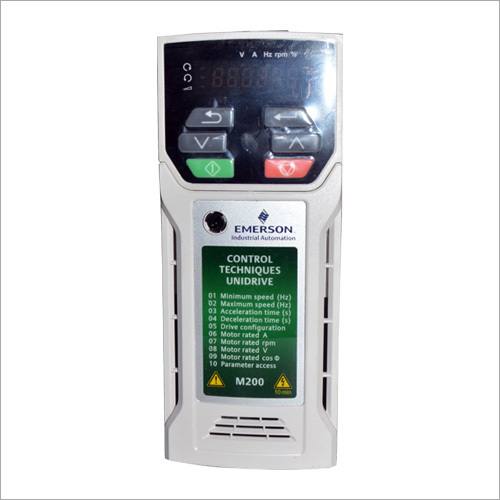 AC Inverter Motor Drive
Product Code : VE-07
Brand Name : VIMMI ELECTRONICS
Vimmi Electronics is a well-known name in the market for its superior and advanced electronic products. Our designed AC Inverter Drive removes the need for additional PLC and cabling. This drive is easy and quick to set-up. Its keypad makes adjustments simpler and clear to operate with the step-by-step guide which is listed on the front of the drive. Our designed AC Inverter Drive is superior in quality and is created by our professionals using advanced machinery, technique and material. This cost-effective drive is available in the market in a wide variety of rage.
Unidrive M200
0.25 kW 132 kW Heavy Duty (0.33 hp - 179 hp)
100 V / 200 V / 400 V / 575 V / 690 V
Being tied into one system can be restrictive. It can leave you trapped with one supplier even when there a better option available on the market. We provide a viable alternative.
Freedom to connect
Unidrive M200 connects with many of the common fieldbuses using the modular interface port. It can communicate with SI-Ethernet, SI-EtherCAT, SI-PROFINET, SI-PROFIBUS, SI-CANopen and SI-DeviceNet. The AI-485 Adaptor option can also connect to RS485 networks using Modbus RTU.
The RFC-A mode means youlbenefit from consistent running speeds, at current loop rates as low as 125 The inclusion of an onboard PLC gives more control, at no extra cost. Additionally, the Unidrive M200 provides the most convenient upgrade path for Commander SK users.
As with all Unidrive M General Purpose drives, fit for purpose is our key priority. That means they are easy to install and built to last.
Flexible system integration with SI communications options
SI interface enables integration with a wide range of available industry standard fieldbuses and I/O.
AI-485 Adaptor option permits connection to RS485 networks using Modbus RTU.
Improve throughput with advanced open-loop motor control algorithms
Rotor Flux Control (RFC-A) gives maximum stability and control of induction motors at all powers.
180% motor overload suitable for heavy industrial machinery applications.

Integrated PLC
Removes the need for additional PLC and cabling.
Easy to set-up

Designed to make set-up as simple as possible.
Many applications require changing just a few settings.

Adjustments are easy with the keypad and clear step-by-step guide.

Useful parameter guide located on the front of the drive.

Concise parameter set for ease of use.
For fast, batch production, parameters can be transferred to new drives using standard SD card with AI-Backup module or AI-Smart adaptor.
Reduced application size and cost
Unidrive M drives are amongst the smallest in their class.
Drives can be fitted side-by-side to save even more space.

Designed for easy assembly in or out of a cabinet.
DIN rail mounting supported below 1.5kW.

Save energy

Low power standby mode drives can sit idle for significant periods.

Automatic 3-speed cooling fan œintelligently responds to load.

Square law V/F mode - optimized for quadratic loads like pumps and fans.

Dynamic V/F mode - keeps energy usage and motor losses to a minimum.
Unidrive M is 98% efficient only 2% energy is lost in the conversion process across the drive.
Minimize downtime with robust and reliable drives

Conformal coated PCBs for increased resilience to moisture, dust, chemicals and temperature extremes.
Patented air flow system efficiently cools while protecting internal components.

Ingress protection up to IP21 UL open class (NEMA 1) compliant.